Search Engine Optimization (SEO) Services
Search optimization increases the prevalence of web pages in search engines by changing the pages themselves, and by making connections between the pages and the rest of the Internet. We do not consider SEO to be a separate service—rather, it is an essential part of every service we offer.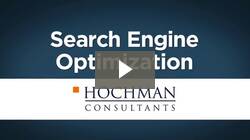 SEO Strategy
To convince people to visit and link to a web site, the site must offer something unique and valuable. Before optimizing a site, we evaluate the product or service. Who can benefit from the product, why do they want it, and how is it different from the competition? What offer is made to the prospective customer, and how can it be improved?
Keyword research
Understanding which keywords are important allows us to go after the search terms that will deliver targeted visitors. We obtain keyword research from several sources, including search engine search reporting services, and pay-per-click advertising test campaigns. The goal is to optimize the site for keywords that turn into business.
SEO copywriting and Coding
Some of the quickest SEO results can be obtained by replacing vague wording with specific search terms. We also need to make sure that you have enough content, that the content provides useful information, and that your content is organized logically. Finally, we employ quality control automation to eliminate spelling and coding errors that can reduce search visibility and harm user experience.
Some programming methods prevent search engines from indexing your site. We can audit your site to identify and remove any "spider traps." Accessibility programming ensures that all content is visible to the search engines. When a search engine reads a web site it only recognizes the text, not the images. If your content is visual, then you need to provide an alternative representation in the form of text. By making your content accessible to search engines, you can begin to benefit from greater visibility, and your clients will appreciate being able to find your site via Google and other search engines.
Linking and off-page optimization
Many search engines, including Google, rank sites based on the quantity of inbound links, and the words used in inbound links. We do not recommend link exchanges or emailing people to ask for links. During an SEO campaign we will look for link opportunities and give you advice. Of course, the best links are the ones people create because they like your site.
Design and usability improvements
High quality sites earn more links. If your site looks good and performs well, it will be evaluated favorably and you'll receive links from other sites. Also, we don't want visitors to take one look at your site and decide that it's not reliable.
Service Packages that Include SEO
Search Engine Optimization (SEO) Services
Updated on 2016-02-03T14:54:43+00:00, by Jonathan Hochman.